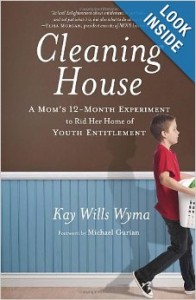 Cleaning House: A Mom's Twelve-Month Experiment to
Is Your Home Out of Order?   Do your kids expect clean folded clothes to magically appear in their drawers? Do they roll their eyes when you suggest they clean the bathroom? By racing in to make their lives easy, have you unintentionally reinforced your children's belief that the world revolves around them?   Dismayed at the attitude of entitlement that had crept into her home, Kay Wyma got some attitude of her own. Cleaning House is her account of a year-long campaign to introduce her five kids to basic life skills and the ways meaningful work can increase earned self-confidence and concern for others.   With irresistible humor and refreshing insights, Kay candidly details the ups and downs of equipping her kids for such tasks as making beds, refinishing a deck chair, and working together. The changes that take place in her household will inspire you to launch your own campaign to dislodge your kids from the center of their universe.   "If you want your children to be more responsible, more self-assured, and more empathetic, Cleaning House is for you." —Jim Daly, president of Focus on the Family
31 Days to Clean – Having a Martha House the Mary Way [Kindle Edition]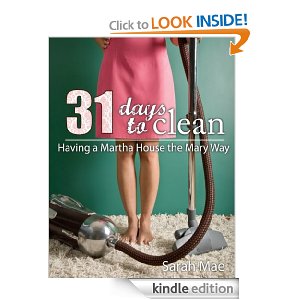 Book Description
Publication Date: April 10, 2011
Journey with Sarah Mae for 31 Days as you get your home and your heart in order. Give Sarah Mae 31 days and she'll give you not only a cleaner home, but a vision for one.
31 Days to Clean is about the "why" and the vision and the heart for taking care of your domain. Each day you will be encouraged with some thoughts and ideas on the heart of cleaning, and then you will put those ideas to action.
After each days reading, you will be given two challenges (based off of Mary and Martha in the bible):
The Mary Challenge -Something you do that encourages/engages your heart
The Martha Challenge – Specific cleaning tasks
31 Days to Clean is a faith journey towards ruling, subduing, and loving. It is about forgoing perfection and instead choosing life.
*31 Days to Clean is written with a Christian perspective
"What do you think of when you consider doing laundry, washing dishes, and cleaning the dreaded bathroom? Are you discouraged? Do you feel overwhelmed? I have to say I feel that way … often. In all my live-long days I haven't seen my home as a ministry. Can I serve Jesus and others as I clean my home? Sarah Mae proves I can. As a wife, mom, mother-in-law and mentor to teenage moms I'm going to cherish this book and share what I learned. Cleaning is more than just fighting germs. It can be a ministry of the heart!"
-Tricia Goyer, author of 25 books, include Blue Like Play Dough: The Shaping of Motherhood in the Grip of God
Book Description
Publication Date: August 26, 2013
Have you always wanted a clean house but felt that you are incapable of having one? Do you feel like you spend all of your time cleaning the house and have no time for anything else? Then it's time to learn the art of proper house cleaning. Believe it or not, you can have a clean home and have a social life too! In "Clean House: Easy Time Saving Tips for a Clean Home," you will learn just how to perfect the art of cleaning so that you do have time for other things in your life. 
Whether you are just starting out on your own or you have been on your own for many years but haven't been able to master the art of cleaning, you will gain the following benefits from this book: 
• Learn the art of quick cleaning 
• Avoid the need to panic when someone stops by unexpectedly 
• Learn the difference between picking up and actually cleaning 
• Understand how to deep clean when it is necessary 
• Learn the types of cleaning products to use 
Download "Clean House: Easy Time Saving Tips for a Clean Home," and start entirely new cleaning habits in your home. Learn how to clean the house in 20 to 30 minutes a day and how it can decrease the number of hours you have to spend deep cleaning. Put the days of spending all day Saturday and Sunday cleaning behind you and start enjoying your weekends once again!

            You don't need to pay a fortune for expensive "green" commercial cleaning products. It's easy and inexpensive to mix up effective, nontoxic alternatives using basic kitchen staples — baking soda, vinegar, lemon juice, herbs, and borax — plus a handful of easy-to-find essential oils. Karyn Siegel-Maier offers 150 all-natural recipes for cleaning everything in your home — from bathrooms to bedding, carpets to cabinetry. The formulas are so simple that anyone can make them, but they are at least as effective as the commercial options. Try making your own Rosemary-Geranium Floor Wipes for electrostatic floor mops, Weekend Warrior Wicker Wash, Telephone Dirty Talk Tamer, Clear the Air Room Spritzer, or Lavender Lift Automatic Dishwasher Soap.
Editorial Reviews
From the Back Cover
Save money…Save your health…Save the planet…With natural cleaning power!Did you know that the air in your home might have chemical contamination levels 70 times greater than outdoor air? And the culprits are lurking right under your kitchen sink. It's time to clean up your act!
Learn how easy it is to make your own safe, nontoxic, effective alternatives to commercial cleaning products by combining the antibacterial and antiseptic properties of herbs and essential oils with other natural ingredients such as baking soda, vinegar, borax, and lemon juice. The Naturally Clean Home includes tips and formulas for freshening every room in the house:
–Wash the dishes with eucalyptus
–Restore the rug with rosemary
–Soften fabrics with lemon
–Clean the oven with orange
–Scrub the sink with lavender
–Polish wood with raspberry leaves
–Flush the toilet clean with tea tree oil
–Wax the car with beeswax
Clean It! A to Z Guide of How To Clean Your Home : 667 Ideas
          Let's face it: cleaning your home can be a major frustration. There are spills to clean up.             Endless surfaces to dust. Rugs to vacuum. Add all           this to the busy life you lead with work,       family, and friends, and it's no wonder you need quick and effective tips on housecleaning.
That's exactly where "Clean It! A to Z Guide to Cleaning Everything" comes into play!
From tough stains to delicate surfaces, from cherished family heirlooms that need restoration to common, everyday objects that can be recycled and reused, there are 667 topics, organized alphabetically, for your convenience in this special housecleaning guide. 
What's more, the cheaper and eco-friendly methods you'll find in this guide are generally preferred whenever possible. We did this to ensure you don't throw good money down the drain on high-end commercial products, when the solution was right in front of you all the time. 
So, what do you need in order to keep your home spotless and your family safe and healthy? Everybody should have a healthy stock of laundry detergent (at least one mild, for delicate garments, and a heavy-duty one), two types of dish detergent (a non-abrasive and an abrasive detergent), stain remover, white vinegar, baking soda, washing soda, ammonia, bleach, rubbing alcohol, and an oven cleaner. Make sure you store these products away from the reach of children, since many are toxic. 
Before we get into these cleaning tips, it's important to learn how to use these items responsibly in order to protect yourself against accidents. For instance, bleach should never be combined with ammonia, as it releases toxic fumes. Many substances, such as kerosene or turpentine, are highly flammable. Oven cleaners are very effective on stains, but they're also very damaging to your skin. Lye causes severe chemical burns, and should never come in contact with skin. Your closet of cleaning supplies should therefore also include several pairs of gloves, latex ones, but also a chemical-resistant pair, safety glasses, and clothing that cover your hands and legs completely, and a first-aid kit, just in case. 
You also need a collection of sponges (soft and abrasive), brushes, paintbrushes, and wire brushes, rags and cloths – in particular micro-fiber, lint-free cloths, which can save you hours of work – mops and dusters, cotton swabs, and several buckets of different sizes. Do not forget to clean these items regularly; otherwise you'll just be transferring germs to the cleaned objects!
Last but not least, there comes a time when you have to accept that an object is beyond rescue. Some spots that appear to be stains are in fact scratches or deep damage that cannot be removed. In other cases, the material is so delicate that any scrubbing will completely ruin the object. Finally, every cleaner has to admit that once in a while you come across a stain that simply beats the most advanced techniques in the world. There's no shame in turning to professional help when you need it, and there's no reason to sweat and scrub for hours when you're dealing with an item that should have been replaced years ago. 
In the end, the key to maintaining a spotless house is to combine patience and common sense. Be prepared to wash, rinse, repeat many times, but not to the point where you end up spending twenty hours a day with the mop and the sponge!
 Is there ever a week when cleaning isn't atop your loath to-do list? Within hours of disinfecting the kitchen work surfaces they're inevitably covered with sticky marks and scattered crumbs, and it seems to take mere minutes for the dust to settle once again on that sideboard. The dirty work, truly, is never done.Still, there's no sensation quite like having a spotless home. After the bath has been scrubbed, you, too, feel like a sparkling version of yourself – calmer, healthier, cobweb-free. Because you'll always strive for that clean slate – even at the expense of fun and relaxation – you persevere through the stain busting, the sanitizing, and the polishing.This book includes: the essential cleaning kit: tools and products to have on hand for tackling jobs big and small; easy step-by-step techniques for even the toughest of chores; trouble-shooting tips for stubborn stains, marks, and dirt; specialized advice for your furnishings, including granite sinks and window coverings, plus ceilings and hardwood floors; and speed-cleaning recipes for every room of the house.
This book is divided into sections: first, the recommended cleaning kit is described. Then cleaning strategies for each room in the house are outlined. Next, there's a guide to cleaning common surfaces like ceilings, walls, windows, and floors. At the back of the book, there's a guide to stain removal, a cleaning calendar, and a resource guide.My favorite part of the book is the cleaning calendar. Tasks are divided into categories based on how often they should be completed: weekly, monthly, every 3-6 months, every 6-12 months, and every year or so. As a neophyte SAHM and new home-owner, I find it helpful to have recommendations for the frequency of tasks. I found it helpful to put small "LabelOnce" brand labels on each task box so I could mark the last time I'd done it – it helps me to have a reminder of when I last vacuumed the coils on the back of the fridge, etc, especially for tasks that are performed less frequently.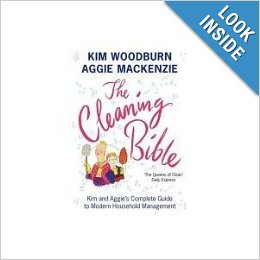 Kim and Aggie's Complete Guide to Modern Household Management
You watched the TV programme and you bought the book but is your house still a bit dull round the edges? It is time to get Kim and Aggie round to do the spring cleaning – their ultimate "Cleaning Bible" is the only helping hand you need for all tasks of a domestic nature. Every tip and trick from their combined cleaning experience of about half a century is included, and they always use natural products where possible so even your conscience will be clean. Make a space next to Delia and Jamie and welcome Kim and Aggie to your domestic bookshelf!