Lysol Disinfecting Wipes are a moderately effective cleaning product. They are convenient, in that the container is small, portable, and the wipes pop up one at a time (mostly).
They are chockful of antibacterial chemicals, which would make them a good choice for for decontaminating all surfaces after you've prepared raw chicken. (And what's up with the chickens already? Remember when it was just food and not something that you needed a HazMat suit to handle?)
The wipes are also good for cleaning surfaces that are not really dirty. If you are among those of us who clean the house only after Martha Stewart orders a hit on you, they are a mixed blessing.
On the plus side, they are excellent for bathroom surfaces. You can wipe down all the enamel surfaces, glass shower doors and tile quickly and easily, and although I have always preferred the hot water/ammonia formula, these are more convenient and you don't have to worry about tripping over the bucket or putting your foot in it.
On the minus side, you can buy a lifetime's worth of ammonia and hot water for the price of 80 of of these very small wipes. It took me almost 40 of them to clean the toilet, vanity, backsplash and tub.
BISSELL 2X Professional Deep Cleaning Formula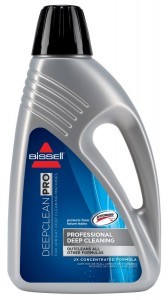 Cleans to remove soil and stains, as well as contains Scotchgard Protector to protect carpet from future stains
2X concentrate provides the same cleaning power using less packaging than non- concentrated formula
Laboratory tested and safe to use in Bissell, Hoover?, Dirt Devil? and Rug Doctor? full size deep cleaning machines
Formula contains biodegradable detergents and contains no phosphates, dyes, optical brighteners or heavy metals
Formula recognized for safer chemistry by US EPA?s Design for the Environment (DfE) Program
Deep Cleaning Formula with Scotchgard Protection
How do you keep up with that new carpet look while protecting carpets from spilled wine, pet stains and kids who forget to take their shoes off? Vacuuming alone isn't enough. That's where deep cleaning with Scotchgard protection comes in. Scotchgard works by placing a barrier on the surface of fibers to protect against future stains. Even if your carpets weren't treated from the start, you can help build in some protection using BISSELL deep cleaning formulas with Scotchgard.
A more aggressive cleaner than Pro Products Softener Mat 
Helps maintain the life of your softener syste m
Product Description
Pro Products RK41N is specially formulated to restore the performance of softener resin. Regular use of this Pro Product extends the life of your water softening appliance. Do you have hardness issues in your drinking water supply with dissolved calcium and magnesium that require extensive softening to prevent limescale deposits? Keep your water softener resin functioning at peak efficiency with Pro Products RK41N.
Mr. Clean Magic Eraser Cleaner Cleaning Pads
I would recommend these for small-to-medium cleaning jobs that have very tough stains. I've cleaned wall stains and school desks (!) and they cut through the stains like magic. Less pressure works better than more pressure, and if you have a large cleaning job, you will need several of these, as they will disintegrate as you use them. Read all of the reviews on Amazon, and you'll get a good sense of the kinds of things that can be cleaned. I love them.
Here is the info from the package.
Great for: textured shower floors and tubs
baked-on grease, microwaves, and floor tile grout
light switches and ceramic tile
plastic patio furniture and children's play sets
alloy car wheels, vinyl window sill/frames and much more
New proprietary formula enhances the performance on any natural stone and tile surface.
Cleans and revitalizes tile, granite, marble,and grout with no waxy buildup.

New fresh linen scent

100% biodegradable and non-toxic.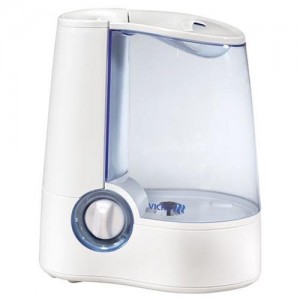 Automatic Shut-off
1-gallon capacity; operates up to 12 hours on a single filling

Quiet operation. Soft glowing nightlight.

2 Comfort settings

Medicine cup allows the use of Vicks Vaposteam or Kaz Inhalent to produce a medicated vapor that sooths    

Vicks Pure Warm Mist Humidifier for Relief of Cold & Flu Symptoms. This humidifier boils water to a pure steam vapor up to 96% bacteria free. This mixes with dry air in the cooling chamber to release warm, moist air into the room.